Three Things To Watch Out For In The Alfa Romeo Stelvio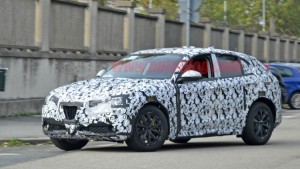 The Alfa Romeo Stelvio is due to be revealed at the Los Angeles Auto Show, so it comes as a no surprise that we're seeing prototypes being tested in broad daylight with less and less camouflage.
The latest spy shots of the car still haven't revealed much detail about the Stelvio, but it did give us a glimpse of what to watch out for.
Stevlio's Front Reveals New Grille, hood
The spy shots released earlier did not reveal the headlights. Unfortunately, the same holds true for these series of shots. The headlights are disguised by heavy tape, though it appears to be identical with the ones found on the Giulia sedan. As for the grille, a new v-shaped grille is found at the front with two rectangular ones placed on the bottom of the front fascia. The hood, on the other hand, has three odd-shaped ridges, although some see these ridges as more because of the camouflage than the actual creases on the Stelvio.
Profile is Similar to Porsche Macan
Earlier spy shots revealed that the Stelvio will mimic some of the most intricate and obvious designs of the Porsche Macan. In this regard, the spy shots were not wrong. This series also proved that the rear end of the SUV won't change as much—the taillights are still taped off and appears to be very similar to the Giulia. What's new, though, are the massive exhaust tips, which would be more perfect on a sports car.
Powertrains are Going to be the Same as with the Giulia
There aren't any exhaustive details about the powertrains that the Stelvio will come packing. According to reports, it would be the same gasoline and diesel powertrains as being offered by the Giulia. But because of the massive exhaust tips found on the prototype, there are also rumors that the SUV might be getting the 2.9-liter V6 engine from Giulia Quadrifoglio.