Thunder Power Unwraps Electric SUV at Frankfurt Motor Show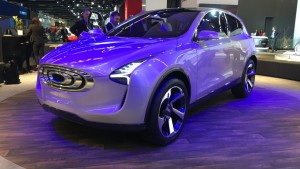 Hong Kong-based electric car company Thunder Power came to the 2017 Frankfurt Motor Show not only to update us about its Zagato-designed sedan EV, but also to unveil a new one—an electric SUV.
Willem Sham, the CEO of Thunder Power, revealed the Thunder Power SUV, which was designed in-house in Milan, Italy and uses the brand's modular platform. It has an electric powertrain fitted, so the car can maximize its interior space and still maintain a low center of gravity.
To reduce drag time, the automaker said it tweaked the car's aerodynamics. The company, however, is still tight-lipped about what the electric SUV has in store for us once it reached production.
On the outside, the electric SUV is attractive enough, minus the grille's design. The interior is comfortable and there's ample space on the cargo area, thanks to rear doors that open rearward. It also has a panoramic roof and a large digital screen that stretches across the dashboard.
But before the unveiling of the electric SUV, Thunder Power updated its audience that the designing and the possible production of the sedan is going well. In fact, a production-spec prototype was onstage with camouflage that resembles a topographic map. The sedan is reportedly undergoing testing for battery performance.
Sham revealed that the sedan EV will have a driving range of up to 650 kilometers on the NEDC cycle. He also announced a Launch Edition Coupe with only 488 examples available. The coupe will produce 654 horsepower on its electric powertrain. It will be paired with a four-wheel-drive system and uses a torque vectoring system.
The overall design of the Launch Edition Coupe will depend on the customer's taste, but it will have an engraved plaque of the car's serial number. The coupe will enter production soon, but deliveries will begin on the second quarter of 2019.