Top 3 Facts About The 2018 Lexus LS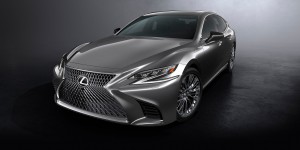 For many years, Lexus LS, which debuted in 1989 at the Detroit Auto Show, has been the standard of many stylish sedans. Lexus is looking to recapture some of that former glory during this year's North American International Auto Show.
To do that, Lexus has to make this fifth-generation LS larger, more powerful, and more stylish than ever based on a report.
1. Size And Design
The new architecture used by Lexus makes the LS lower, wider, and is closer to the ground center of gravity. The front end reminds us of the LC Coupe but the side profile is far different from the current generation LS. It comes with Lexus' new six-side window design and 20-inch wheels with a special hollow rim structure which can reduce the vehicle noise.
Why is this important for Lexus? The exhaust will certainly be noisier than this model's predecessor even if the sedan is fitted with an active noise cancellation system in the cabin.
2. Powertrain
During the auto show, the Japanese automaker only showed the specs of the LS500 model. It comes packed with a twin-turbocharged direct-injected 3.5-liter V-6 engine that can produce 415 horsepower and 442 lb-ft of torque.
The power allows the LS to compete well with its counterparts from other luxury car makers: the Mercedes-Benz S550 that cranks out 449 horsepower and the BMW 750i that produces 445 horsepower.
The engine is paired with Aisin-supplied 10-speed automatic transmission with rear-wheel drive as standard and all-wheel drive as optional. According to Lexus, the car can go 0-60mph in just a matter of 4.5 seconds.
3. Interior
Luxury is the name of the game in the LS' cabin. It's covered with plush, buttery-smooth leather and beautifully designed dashboard. Owners can choose different types of wood trim and ambient lighting that is based on Japanese lanterns.
It also comes with Lexus' remote touch interface that controls the 12.3-inch central display screen. It has smartphone-like operations.