Top 4 Features 2019 Chevrolet Silverado 1500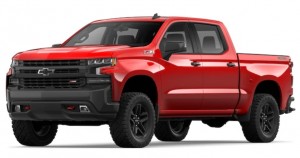 The all-new 2019 Chevrolet Silverado 1500 features a lot of new upgrades compared to the 2018 model. Among the updates include a new engine, larger space on the rear bed, changes on the dimensions and new trims.
Appearance
There's no noticeable change in the design of the pickup truck. However, it gains a few chunks of metal that increases its length by 1.6 inches and wheelbase by 3.9 inches. The extra size translates to a roomier interior and a total bed space of 63 cu ft.
Despite its added measurements, the vehicle is 450 pounds lighter than its predecessor. Meanwhile, the V8 version of the auto can now tow as much as 13,200 pounds and haul up to 3,270 pounds.
Engine
At present, the Silverado has two new engines to choose from. The additional engines are the new 5.3-liter V8 with Dynamic Fuel Management and 2.7-liter inline-four units. The 2.7-liter engine replaces Chevy's old 4.3-liter V6. A 3.0-liter "Duramax" inline-six version will arrive soon. Six-speed and eight-speed automatic transmission systems are available for the pickup truck.
The most fuel-efficient variant is the 2.7-liter-equipped Silverado 1500. The EPA figures of the vehicle are 20 mpg in city and 23 mpg in highway.
Pricing
The base trim of the 2019 Silverado pickup costs $31,290. The most expensive variant is the High Country trim with a starting price of $55,990. The amount can go up depending on the extra-packages and customization options installed by the owner though.
Tech
The new Silverado does not offer the same level of fancy equipment offered by its competitors but going for the LT will at least get you an eight-inch touchscreen that comes with Android Auto and Apple CarPlay connectivity plus a 4G LTE wireless integration for up to seven smart devices.