Top 3 Features of the 2017 Land Rover Discovery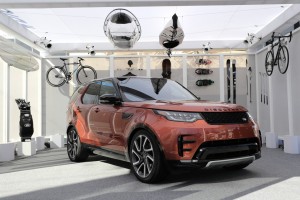 Land Rover will debut its 2017 Discovery to US market, and the first stop will be at the Los Angeles Auto Show. This is the Discovery's first arrival in the US.
To get to know more about the 2017 Land Rover Discovery, we compiled these three things:
1. The Starting Price is $50,985
Land Rover said that the 2017 Discovery will have a starting price tag of $50,985, including a mandatory $995 destination charge. The first to be offered to the US market is the high-buck First Edition package, which will have to raise the price to $74,945. The nearly $25,000 will give you the fully-loaded model, complete with the limited edition styling package.
For a truck that plays well in the dirt and rough roads, the price tag isn't that hefty, after all.
2. It Wowed Laird Hamilton and Gabby Reece
During an event in Venice, Land Rover put the Discovery First Edition among high-tech equipment built for people with very active lifestyles. Unsurprisingly, it caught the eye of Laird Hamilton and Gabby Reece. Laird is the "king" of big wave surfing while Gabby is a volleyball player and model.
There's no active lifestyle more than those two combined. With two children, the 2017 Land Rover Discovery is the perfect vehicle for the couple.
What Land Rover imagines as an owner of the Discovery is one who would load the roof with mountain bikes, surfboards or any equipment for the great outdoors. You can even opt for the waterproof key that Discovery offers, so that you don't have to worry about it when you're out.
3. It's Light and Powerful
The 2017 Land Rover Discovery has a 3.0-liter supercharged V-6 engine. It is also made of aluminum, which allowed the Land Rover engineers to make it 1,000 pounds lighter over the current LR4.
Photos
Check out the photos of the new Land Rover Discovery in the gallery below: