Top 3 Features of the 2017 Mini Electric Concept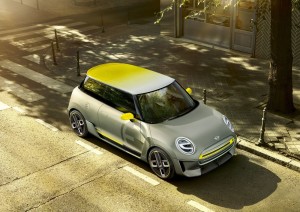 Mini is looking at finally introducing its first electric car as it just unveiled the Mini Electric Concept ahead of the Frankfurt Motor Show this September. The modern Mini arrived in 2001 and was redesigned in 2006 and 2013. Since then, it has become more of a fashion statement rather than an affordable car for any individual.
1. Exterior
When you first look at the Mini electric concept, it would look like a reworked Cooper to you. Seeing as the Cooper is the brand's most iconic car, it's easy to see why the same design and body style were used for the concept. If Mini wants to survive in this particular segment, it better make use of what made it famous in the first place.
There are new features, of course, such as the closed hexagonal grille and the striking yellow accent stripe and round "E" badge. The grille was designed to improve aerodynamics. The headlamps are the same but it now features new LED cluster. The same can be said on the sides and the rear of the concept—it's looking more and more like a redesigned next-generation Cooper.
2. Interior
Mini did not reveal anything about what we're going to find inside the concept car, so it looks like the concept is more aesthetics than comfort. If anything, we can assume that the concept will look like the standard Mini Cooper. This means big round center stack, a large speedo behind the steering wheel, and an overall clean dashboard design.
3. Drivetrain
The concept will be 100-percent electric. There's an option under BMW's current lineup. Called the i3, it uses a synchronous electric motor that can produce 170 horsepower and 184 pound-feet of torque. It can reach 62mph from a complete standpoint in just 7.3 seconds. Top speed is 93mph.
The concept's battery can reach a range of 186 miles on the European NEDC cycle and up to 158 miles based on the Worldwide harmonized Light vehicles Test Procedure (WLTP).