Top 3 Features of the Alfa Romeo Stelvio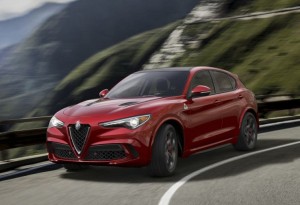 It is a cross between a sports car and an SUV. Well, at least that's what they say about the Alfa Romeo Stelvio.
The Alfa Romeo Stelvio is one of the hot attractions right now at the 2017 Geneva Motor Show. Here are its key features based on a report:
1. Engine
The new Alfa Romeo Stelvio is offered in two engine trims. The first is a petrol-fed 2.0-liter turbocharged four-cylinder engine. It produces 280 hp and 306 lb-ft of torque. All that power is distributed to all four wheels via an eight-speed automatic gearbox.
The output allows the Stelvio to accelerate from zero to 62 mph in just 5.7 seconds. The top speed of the auto is at 144 mph. The video at the bottom of this article highlights the petrol model of the vehicle.
The diesel model of the vehicle houses a 2.2-liter four cylinder engine. Not much was said yet about this particular unit but we will surely follow up on this one once more information is available.
2. Design
The Alfa Romeo Stelvio carries many styling elements found in the Giulia like its body lines, rounded nose and front grille. However, the similarities between the two end from the B-pillar portion to the rear where SUV factors already come into play. Of course, the Stelvio is higher and bulkier than the Giula because of its crossover form.
3. Competition
The Stelvio is Alfa Romeo's new fighter in the SUV coupe segment of the market. The vehicle is the brand's challenger to the Porsche Macan, Jaguar F-Pace and Mercedes-Benz GLC Coupe.
Photos
Check out the official photos of the new Alfa Romeo Stelvio at the 87th annual Geneva International Motor Show in the gallery below:
Video
Press play in the video below to watch the Alfa Romeo Stelvio as it is driven in the Italian Alps: