Top 3 Features of the Audi E-Tron Unveiled at 2017 Shanghai Auto Show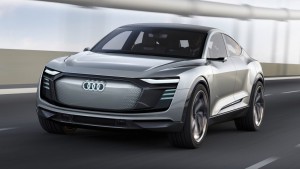 Not to be outdone by its major German rivals like Mercedes-Benz and BMW, Audi just unveiled its own electric-powered concept car at the 2017 Shanghai Auto Show. The vehicle is called the e-tron Sportback concept.
The new concept car gives everyone a preview of what to expect from the future crossover coupe models of Audi. It embodies their next evolution in styling, technology and power.
Here are the top 3 features of the Audi e-tron Sportback concept based on its maker's official website:
1. Exterior
The e-tron offers sporty lines and muscular body in its exterior. Then it is fitted with 23-inch six-spoke 3-D wheels. The measurements of the auto is similar to the Audi A7.
The concept car is further highlighted by futuristic-looking headlamps and taillamps. Even the logo of the auto in its nose is illuminated by LED lights. The lighting system of the vehicle is capable of projecting images in the road to communicate with drivers and pedestrians. Examples of those are a braking indicator or zebra crossing projection. It uses digital animation to do those.
2. Interior
The interior of the concept vehicle is highlighted by Audi's signature luxurious leather treatment. It is also adorned by high-resolution touchscreens providing information on navigation and other functions of the auto.
3. Power Unit
The e-tron is powered by a 95 kWh Lithium-ion battery pack and three electric motors. The output of the car totals 320 kW, or even up to 370, according to Audi. That allows the vehicle to sprint from zero to 100 km/h in just 4.5 seconds.
The battery of the concept car is capable of covering a distance of 500 km at full charge. Its maker claimed that it can get an 80% charge in just 30 minutes using a fast DC charger.
Photos
Check out the official photos of the Audi e-tron Sportback concept in the gallery below:
Video
Here is a video of the Audi e-tron Sportback concept during its introduction: