Top 3 Features Of The Kia Soul First Class Concept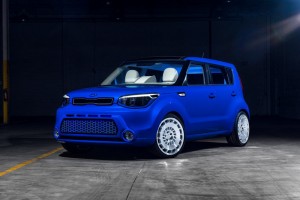 The Kia Soul First Class concept, which was specifically designed for the 2016 SEMA show, is taking autonomous technology to the next level by pairing it up with luxurious features such as rear facing front seats, a massive rear view screen, in-floor leg rests, and an elegant and comfortable cabin you'll want to rest in.
Here are the top 3 features of the concept car based on a source:
Exterior
Kia tapped the resources of LUX Motorwerks to give the Soul a unique vision of what's in the future for SUVs and crossovers. The first step is to bathe the Soul in LUX Electric Blue finish from top to bottom. Then, they also put LED lights that give a mysterious blue glow on the upper and lower grille.
The concept's Rotiform Monoblock CCV 19-inch wheels are also fitted in Continental all-season tires. The backgrounds of the Kia emblems on the exterior are also painted LUX Electric Blue while the "Kia" lettering remains black. The headlights are getting the same LUX Electric Blue treatment as accents.
Interior
This is called Soul First Class for a reason. The interior is so luxurious it can make you think you're inside a Bentley or a Rolls-Royce. What modifications this concept lacked outside, it more than makes up for what you can find inside.
What LUX did was to strip off everything out of the cabin and start on a clean canvass. The rear seats now face the back of the car while a new console was installed between the two seats. Each of the passengers will have access to a tablet device that can control and monitor every aspect of the vehicle.
The seats are made with gray leather with diamond stitching while the floor has been equipped with a modern gray wood, giving off that feel of class and luxury. In the rear, you'll be able to see an entertainment center installed to that floor that has a Mac Mini computer.
Drivetrain
There are no chassis or drivetrain upgrades, but it is expected to have a 1.6-liter, all-aluminum, four-banger that can produce 130 horsepower and 118 pound-feet of torque. Higher models can offer 164 horsepower and 151 pound-feet of torque from a 2.0-liter engine.