Top 3 Features of the Long Road Racing "Ultimate MX-5"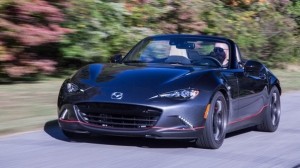 Long Road Racing, which has been reputed for its amazing work on some tuner packs, released one for 2017 Mazda MX-5 called the Ultimate MX-5. If you have a 2016 or 2017 MX-5, but felt that it has not lived up to expectations, you may want to look at what Long Road Racing is offering.
1. Exterior
According to TopSpeed, LRR did not give much focus on upgrading the exterior details of the MX-5, though it offers a lot of wheel and tire combinations. In particular, it's suggesting customers to get the 17-inch Ray's forged wheels which are wrapped in BFGoodrich g-Force Sport COMP-2 Ultra high-performance tires.
MX-5 owners would be hard-pressed to look for tuners that offer exterior upgrades for the sports car. The MX-5 already looks good enough as an entry-level performance car, and tuners should focus on giving it more power than upgrading its aesthetics.
2. Interior
LRR's focus is to make the MX-5 feel more like a race car in the interior. This means stripping it off of all the comforts associated with a luxurious car, and fitting it with race-spec elements, safety equipment, and all-around weight shedding. Some of the race car-spec elements are a roll cage with NASCAR-style bars on both sides of the car, a centralized command center (which means removing the AC system) for power, fire bottle, and pump overrides.
There would also be head net constraints, Lifeline Zero 2000 fire system, seat mounting plates, foot well floor panel, a dead pedal, and a steering wheel with no air bags.
3. Drivetrain
This is where LRR truly went all out. The MX-5 is fitted with a 2.0-liter 4-cylinder engine, and LRR wants to boost its 155-horsepower output through a Setrab engine oil cooler, a race-proven water radiator, gold heat reflection materials, and motor-mounted positive location limiters.
Other upgrades are new limited-slip differentials, differential and transmission oil coolers, and pumps for upgrades.
Pricing
LRR did not release a price tag for the tuning package because it would depend on what the clients want done on their MX-5. Customers can customize their package based on their desired enhancements.