Top 3 Selling Points of the 2018 Lexus LC 500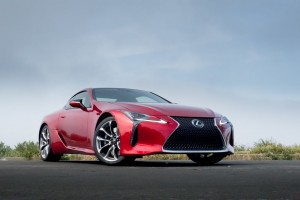 Starting at $92,000, the 2018 Lexus LC 500 boasts a striking design and decent engine output. The luxury coupe is its brand's answer to the likes of BMW 650i Coupe, Jaguar F-Type and Mercedes-Benz SL450.
Is it worth its expensive cost? Let's take a look at the three key selling points of the car based on a review by Cars.com:
1. Design
One of the paint finishes offered by the LC 500 is the "Infrared". As its name implies, it is a special red paint. The source shared that he was engaged by more people as he drove the car compared to the other vehicles he tested.
The spindle grille of Lexus also gives the car a striking identity. Add to that the smooth body, strategically-placed intakes and lighting system of the auto, and we have a real beauty here.
The only setback seen in the design of the LC 500 is that it is a bit bulky. It is more of a touring car than a sports car.
Inside, a mix of high end leather and fabric adorn the surfaces of the LC 500. The highlight of the cockpit is the 10.3-inch display controlled by a touchpad. However, the person reviewing the vehicle found the touchpad to be a nuisance when making inputs as it takes the eyes of the driver away from the road more than a touchpad does.
There appears two rear seats inside the car too but the source noted that they are too tight to even fit a child. It seems like the area is only for the luggage.
2. Engine
The LC 500 retained its naturally-aspirated 5.0-liter V8 engine. The unit produces 471 hp and 398 lb-ft of torque. The power is distributed via a 10-speed automatic transmission. The configuration lets the vehicle sprint from zero to 60 mph in just 4.4 seconds.
3. Performance
The review stated that the LC 500 has a smooth power delivery. Then its engine revs fast. Moreover, the power unit is quiet.
The major setback in the driving performance of the car though is its heavy frame. This factor causes the vehicle to have heavy steering and the back gets twitchy when at high speeds.
Overall, the 2018 Lexus LC 500 may not have some of the elements of a sports car but the styling and other features surely make up for what's lacking.