Top 3 Things About The 2018 Audi PB18 E-Tron Concept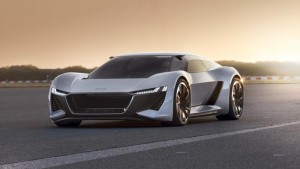 The prototype for the 2018 Audi PB18 E-Tron concept was revealed at the Pebble Beach Concours d'Elegance. The concept car blended both functionality and a dynamic style that's nothing like we saw in an Audi. The best thing about the E-Tron concept, at least for traditional car enthusiasts, is that there is no hint of autonomous tech assistance here.
Exterior
The exterior design is a mixture of the layout of a coupe, the shape of a hatchback, and the profile of an exotic vehicle. Up front, you might see some similarities with Audi's current supercar, the R8. The Singleframe grille was made prominent because of its hexagon shape. The headlights are made of ultra-thin units that has laser-high beams and are integrated with digital matrix technology.
The PB18 measures 4.53 meters (14.5 feet) long, 2 meters (6.4 feet) wide, and 1.15 meters (4.6 tall), so it's not exactly a small car.
Interior
The cabin of the PB18 concept car can either be a two-person layout or a single-passenger layout, the latter will likely put the driver in the middle of the cockpit, much like the Mercedes EQ Silver Arrow concept. The windshield is not just a simple glass. It's an augmented reality system that displays information about the road ahead. Because of the hatchback layout of the concept car, it actually has quite a reasonable amount of cabin space—16.6 cubic feet to be exact.
Drivetrain
The concept car uses three different electric motors—one in the front axle and two in the rear axle. Each of the electric motors can produce 201 horsepower. Combining all three will amount to a whopping 604 horsepower, which can increase to 671 horsepower and 612 pound-feet of torque during normal driving sessions. There's a temporary boost that allows the engine to make 764 horsepower, which is enough to help the PB18 accelerate from 0 to 62 mph in just over two seconds.