Top 3 Things About the 2018 Porsche 718 Boxster GTS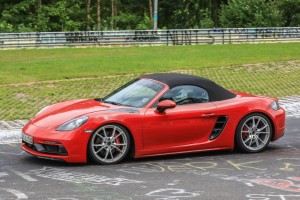 These spy shots of the 2018 Porsche 718 Boxster GTS are showing us how the German luxury automaker is gearing up for its next high-performance sports car. The prototype of the 718 Boxster GTS was shrouded in camouflage, though that didn't stop us from imagining what it could look like.
1. Exterior
The standard 718 Boxster looks slightly different from the GTS version of the same model. The prototype we have seen, however, seems to be a little sportier and more aggressive than the regular 718 Boxster. Obviously, the prototype is packing a new front fascia with an A-wing design that looks very similar to the 918 Spyder hypercar. Below the front fascia, you can find a new lip spoiler.
2. Powertrain
The Boxster S and the previous Boxster GTS have the same engine, though the one fitted on the GTS is slightly more powerful. Porsche will most likely apply the same principle on the 718 Boxster GTS, which means a 2.5-liter turbocharged flat-4 engine that would be placed behind the cabin instead of under the hood.
The engine will have an output of 365 to 375 horsepower, a slight upgrade from the 350 horses produced by the 718 Boxster S.
There is also an option for a top-end chassis—standard Sport Chrono and Porsche Active Suspension Management.
3. Release date
The car might be introduced sometime in 2018 with the 718 Cayman GTS. But remember, the 718 Boxster won't be the best in the 718 range because the Boxster Spyder and Cayman GT4 are expected to make their own debuts. Both will sport the naturally aspirated flat-6 engines.
Spy Shots
Check out the spy photos of the 2018 Porsche 718 Boxster GTS in the gallery below: