Top 3 Things We Learned About The 2018 BMW 3-Series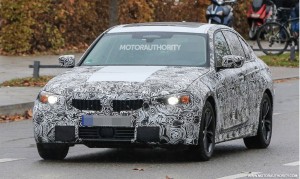 Spy shots for the prototype of BMW's next-generation 3-Series were released, and it looks like it can blow things out of proportion, at least for the segment it belongs to. Codenamed G20, this new prototype from BMW will be released by mid-2017 as a 2018 model.
The 2018 BMW 3-Series reportedly will become the benchmark for the small sedan segment in terms of performance and driving dynamics.
CLAR Platform Will Be Used
BMW engineers have developed one of the most advanced platforms in the automobile industry. The multi-material constructed CLAR modular design will allow BMW to catch up to its other competitions, namely Mercedes-Benz and Cadillac, with their small sedan offerings.
The CLAR made its debut on the 2016 7-Series and has since made its appearance on the 2017 5-Series.
The platform uses lightweight materials such as aluminum and magnesium. In the 7-Series, it used carbon fiber-reinforced plastic. Besides that, it can support alternative drivetrains such as plug-in hybrid and battery-electric applications.
The 3-Series will be the smallest model to use this platform.
Sporty Design Will Be The Exterior Element
The usual BMW styling is present on this prototype. That includes the kidney grille, Hofmeister kink and short overhangs. The front appears lower and wider, however, making many believe that it will have a sporty look, much like the Jaguar XE.
There are still no clear changes on the interior, but there might be a digital instrument cluster that will be paired with an advanced infotainment system complete with voice activation and gesture control.
The driver will have access to semi-autonomous modes.
Plug-In Hybrid Is Going To Be Available
In the US, the core powertrains will be the turbocharged 4- and 6-cylinder inline engines with 2.0 and 3.0 liters, respectively. Some markets might also have BMW's 1.5-liter inline-3.
There will be diesel and plug-in hybrid options too. The plug-in hybrid will most likely use two electric motors under the setup of Power eDrive.
As for the high-performance variant, that is called the M3. Back in 2014, a prototype of this used a turbocharged 2.0-liter inline-4 and two electric motors to produce 670 horsepower.