Top 3 Things We Will Get From The 2020 Porsche Taycan Sport Turismo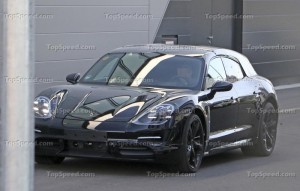 The Porsche Taycan all-electric model will have several versions, one of which is certainly going to be an estate or wagon and it will be called the Sport Turismo. What separates the Sport Turismo from the sedan model are the bigger boot capacity, more practical features and more space.
There are a lot of expectations for the Taycan Sport Turismo since it's technically the only rival that Tesla's Model S has in this particular segment.
1. Exterior
There will be no crazy design on the Taycan Sport Turismo. From the looks of it, the model will be one of the prettiest wagons ever made and thanks to it being an all-electric and high-performance Porsche, the Taycan Sport Turismo should be a trailblazer in its segment. The front will look like the Mission E-Cross Turismo concept though with a cleaner overall look and lower ride height reduction.
The rear will look similar to the concept, too, but the lights should look like the pairs found on the Panamera or Cayenne models.
2. Interior
The interior will be closer to the Panamera with a bit of the elements found in the concept, which has a total of four screens. The production version might only have two or three screens and it will definitely have more physical buttons than the concept, which has none. For one, it will have a dedicated hazard button, which is mandated by law.
The cabin should be spacious enough for a driver, a front passenger, and two passengers at the rear. But since there won't be a big transmission tunnel running in the middle, a third passenger at the rear should be able to sit comfortably.
3. Powertrain
The Taycan models will arrive with several power and/or battery pack options. Power outputs will range between 400 and 600 horsepower. The basic Carrera model might only be offered as a rear-wheel drive, though all-wheel drive should come as standard.
The range is pretty good at around 310 miles or 500 kilometers on a single charge. This will be the maximum range for the largest battery pack.
Photos
Here are the photos of the Porsche Taycan from TopSpeed: