Top 4 Expectations About the 2019 Lamborghini Urus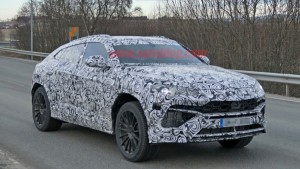 New spy shots of the Lamborghini Urus just surfaced out online. The crossover certainly looks very sporty and sexy due to its coupe-like elements matched with underpinnings found in Volkswagen vehicles, including the Porsche Cayenne and Bentley Bentayga.
Based on various insider sources, spy shots and hints from Lamborghini, here are the things we can expect from the upcoming crossover:
1. Massive Engine Output
Stefano Domenicali, CEO and President of Automobili Lamborghini S.p.A., revealed in an interview with Automotive News Europe that the Urus will be equipped with a twin-turbo V8 engine. He said that the unit will have an output of 650 hp. It is estimated that the torque of the engine will be at least 600 lb-ft.
2. Plug-In Hybrid Version
In addition to the V8 engine of the crossover will be an electric motor. Maurizio Reggiani, research and development chief of Lamborghini, told Autocar that the Urus will be available with a plug-in hybrid powertrain. As mentioned, the vehicle already has a powerful 650 hp V8 engine, so look forward to an additional boost from the electric motor.
3. Design Will Not Be Far From the Concept Model
Spy shots suggest that the Lamborghini Urus will follow the styling elements shown by its concept model at the Beijing Motor Show in 2012. The only notable changes seen in the production model compared from the concept version of the vehicle are the new positioning of the exhausts, absence of rear diffuser, reshaped rear windows and presence of roof rails.
4. Coming Next Year
The production version of the Lamborghini Urus will be launched next year with a 2019 model year. It will likely be sold in a limited number. The crossover will be assembled at the Lamborghini plant in Sant'Agata.
Photos
Check out the spy shots of the Lamborghini Urus provided by Autoblog in the gallery below: