Top 4 Expectations from the Fourth-Generation Audi A3 Sportback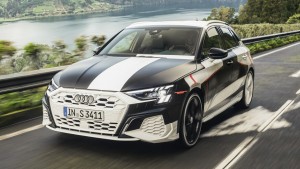 The fourth-generation model of the Audi A3 Sportback is making its debut at the Geneva Motor Show in March. The compact car is geared to compete with the likes of the Mercedes-Benz A-Class and CLA, as well as the BMW 2 Series.
Details about the A3 Sportback are still under wraps since we're still a few days away before the big unveiling in Geneva. However, thanks to teasers and sources within the automaker's ranks, we already have an idea of the things to expect from the auto.
Better Design
Based on the teasers of Audi, the A3 Sportback will get a larger and more aggressive-looking front grille. The bumpers are sportier too while both the headlamps and taillights of the vehicle appear to be sleeker than the outgoing model. Moreover, the body lines of the car seem to be more detailed and sharper than the current version.
Eco-Friendly Interior
The latest teaser from Audi reveals that the upholstery and carpet of the A3 will be utilizing recycled materials. Each car has recycled materials coming from approximately 100 plastic bottles.
The eco-friendly material will be offered in a variety of colors to cater to the varying preferences of buyers. Among the offerings include car covers in Torsion steel gray complete with yellow stitching, and then another comes in Puls two-tone black and silver with Rock Gray threads. The company is also planning to include a black and red-themed version of the interior in the future.
Performance
Information about the engine of the A3 Sportback is still scarce but its maker boasts that the car will have improved driving dynamics that include a new damper technology and adaptive suspension. Furthermore, the auto will be offered in an all-wheel-drive system.
Not US-Bound
Unfortunately, the Audi A3 Sportback will not be sold in the U.S. soil. Only the sedan variant of the car will be offered in the country.