Top 4 Facts About The 2019 Volvo S60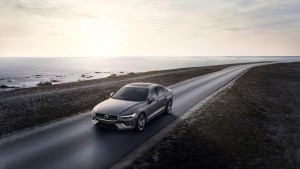 After much speculations, the all-new 2019 Volvo S60 finally made its debut at the company's new plant in Charleston, South Carolina. This is the first time that a vehicle under Volvo's name will be made on the American soil.
The four-door sedan will also be the first offering from Volvo that doesn't have a diesel powertrain option and the first to feature electric performance upgrades tuned by Polestar, Volvo's in-house performance packages experts.
1. Exterior
The S60 segment first made its debut in 2011 and though the first-generation car was sleek and elegant, that is nothing compared to the sporty and more stylish look of the new S60.
For one, it also features "Thor's hammer." It has a more conservative design language than other segments in Volvo's full lineup, and it can be traced in the flow of the body to the rear end, where it has deeper stamps and creases to lower the weight of the car. It doesn't have the long trunk of the S90, but the style more than made up for it. At the rear end, the Volvo badge was moved from between the taillights to under the rear (compared to the S90).
2. Interior
The S60 has the Sensus, a tablet-style touchscreen found in the XC60 crossover SUV and the V60 wagon. It has Apple CarPlay and Android Auto compatibility. All the sedans in the lineup have the standard active safety features such as the forward-collision warnings with automatic emergency braking, pedestrian, bicyclist and large animal detection.
The S60 is longer with two more inches of rear seat legroom, which is same as the larger V60. The wheelbase is measured at 113 inches with 18 inches of wheels.
3. Powertrain
There are three powertrains available for the S60. There's the T5 that has a front-wheel-drive system and 2.0-liter turbo-4 that produces 250 horsepower, the T6 with the turbocharged and supercharged 2.0-liter inline-4 that gives out 316 horsepower, and the T8, a twin-engine 2.0-liter inline-4 that's paired to a rear electric motor that can churn out 400 horses.
4. Prices
The base model, the T5 Momentum version, is priced at $36,795. The top-of-the-line trim can cost as much as $56,000.
TheS60 will be available to order through Care By Volvo. Dealers will have them in showrooms by September.