Top 4 Features of the Aston Martin DB11 Q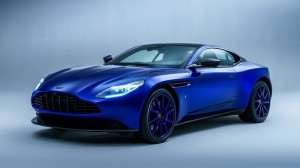 The Aston Martin DB11 Q will be showcased at the 2017 Geneva Motor Show in March. The car is the tailored version of the DB11 that was released in 2016. It should be noted that the DB11 is the successor of the DB9.
Check out the 4 key features of the car below according on a source:
1. Exterior
The Aston Martin DB11 Q comes in Zaffre Blue. The paint job features an exclusive finish which gives an illusion that it changes its colors based on the lighting present in its environment. The wheel is also finished in blue to match the car's body color. Then the front splitter, sills at the side, rear diffuser, bonnet lines, mirror caps, badges, and hubcaps are all made from carbon fiber materials.
2. Interior
The interior surfaces of the DB11 Q is covered in Obsidian Black semi-aniline leather. The same Zaffre Blue theme is used to give more details to the linings of the seats, side panels and to the stitching found in the car's dashboard. Of course, there are a couple of "Q" badges inside to highlight the special identity of the auto.
3. Engine
The DB11 Q is powered by a 5.2-liter twin-turbo V12 engine. The unit can produce up to 600 hp and 516 lb-ft of torque. The numbers allow the auto to accelerate from zero to 60 mph in just 3.9 seconds. Its top speed is electronically-limited at 200 mph.
4. Pricing
Aston Martin didn't release specific information about the cost of the DB11 Q. That's because the pricing of the car depends on the specifications set by the customer to it. But as a reference, the base model of the vehicle is around $211,995, so buyers should expect to pay more than that.
Aston Martin DB 11 Q Images
Check out the photos of the Aston Martin DB 11 Q in the gallery below: