Top 4 Things Revealed By The New 2018 Jeep Cherokee Spy Shots and Rumors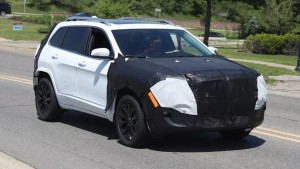 New spy shots of the 2018 Jeep Cherokee emerged online once more. This time, the prototype seems to be shedding more of its camouflage, which gives us a better idea of what to look forward to in the vehicle.
Here's what the new spy shots and reports revealed to us about the new Cherokee:
1. Design
The new Cherokee seems to be a mere update of its current generation model. The same form and body lines that adorned the existing model of the vehicle were carried to the upcoming SUV. However, the covered areas of the 2018 version of the auto hint where the major updates will take place.
Basing from the camouflaged portions of the new Cherokee, it will get redesigned bumpers and lighting. On the other hand, the wraps in the grille and rear hatch might not necessarily mean restyling. Instead, the covered areas likely hide the real identity of the vehicle before its official unveiling.
2. Engine
Information about the new Cherokee remain heavily guarded. According to the source though, the SUV will probably be equipped with Jeep's new petrol-fed 2.0-liter turbocharged four-cylinder engine, which will also be utilized by the new Wrangler.
The post added it is possible too that Jeep will carry over the current 2.4-liter four-cylinder, 3.2-liter V6 and 2.0-liter turbo-diesel four-cylinder engines of the Cherokee for the updated model. The engines might be reconfigured to offer a boost in their outputs.
At present, the four cylinder unit produces 130 kW and 299 Nm of torque. The V6 has 200 kW and 316 Nm of torque. The four-cylinder diesel gives off 125 kW and 350 Nm of torque.
3. High-Performance Model
There are rumors that a high-performance version of the 2018 Cherokee will follow in the form of a Trackhawk model.
4. Arrival
The 2018 Cherokee is expected to be unveiled at the Los Angeles Auto Show in December.
Spy Shots
Below are the latest spy shots of the 2018 Jeep Cherokee: