Top 5 Things About the 2018 Volkswagen Golf Lineup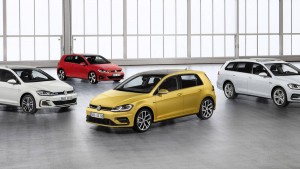 The Volkswagen Golf range just got a series of updates for its 2018 models. There were some noticeable visual changes in the car and popping up the hood of some of its models will reveal upgrades in the engine department.
The Golf is one of the resilient models of the Volkswagen brand. The car has been around since 1974. The auto is currently in its seventh generation.
The present generation of the VW Golf was introduced in 2012. However, its maker introduced gradual updates in its look and performance along the way to keep it fresh during its production cycle.
Here are the major changes in the VW Golf based on TopSpeed:
1. Volkswagen Golf Hatch
The VW Golf hatchback is receiving a 1.8-liter turbo engine. It produces 170 hp mated to a five-speed manual gearbox or six-speed DSG. The car is available in S and SE trims. The S is equipped with "Lyon" alloy wheels. Going for the SE gets you a set of full LED lights, fog lioghts, panoramic tilting sunroof and 16-inch "Toronto" wheels.
2. Volkswagen Golf Wagon
The wagon variants are available in S, SE and SEL trims. The SE and SEL each takes an 8-inch touchscreen. All the wagons get LED DRLs, automatic headlamps and a new shade of green in the finish.
3. Volkswagen Golf GTI
The GTI is offered with a 2.0-liter engine. It gets a 10 hp bump compared to its predecessor, which brings its output up to 220 hp. The power of the car is distributed via a six-speed manual or six-speed DSG.
The vehicle is sold in three trims namely the S, SE and Autobahn. The upgrades in the Performance Package are available in the SE and Autobahn as a standard fit plus safety features like the VAQ Electronic Limited Slip Differential, auto emergency braking and forward collision warning. The Autobahn is also fitted with High beam Control, Lane departure Warning, updated maneuver braking and others.
4. Volkswagen Golf R
The range-topping Golf R packs a 2.0-liter engine with 292 hp paired with either a seven-speed DSG or six-speed manual. Included in the trim are 19-inch "Englishtown" aluminum alloy wheels, DCC Adaptive Cruise Control and 8-inch infotainment system with the brand's Digital Cockpit.
5. Pricing
The starting prices of the Golf models are:
$21,760 for the Hatch.
$22,535 for the SportWagen.
$26,845 for the Alltrack.
$27,265 for the GTI.
$40,635 for the R.