Toyota C-HR Hy-Power Concept Is The Ideal Car For Millennials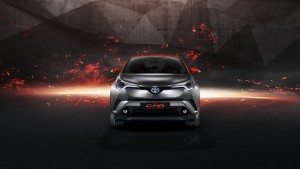 Since it was launched in 2016, the Toyota C-HR became one of the company's most popular crossover because of its affordability, its size, and its fuel-efficient engines. It doesn't have a cult following like Honda's CRV, but C-HR continues to stand out because of its stylish and youthful design.
Now, a team of designers from ED2, Toyota's European design studio, came up with the Hy-Power Concept that added features both inside and out and updated the hybrid to a more powerful drivetrain.
The Toyota C-HR Hy-Power Concept was unveiled at the 2017 Frankfurt Motor Show. The moment you set eyes on it, you'll know why it is a big deal if it sees production. Basically, the concept is like a personalized C-HR and the design is actually doable and possible and not at all out of this world compared to other concepts.
Exterior
The first thing the design team did is to fit the C-HR with a new paint called Dark Carbon. The purpose of this is to enhance the interplay between the muscular surfaces and the sharp lines. Dark Carbon is essentially a silver hue in a matte finish. It is then paired with a gloss black front lip spoiler, nose grille, and wheel arch trim, all of which contribute to a more aggressive appearance.
More, the concept features dark chrome in the headlamps, 20-inch alloy wheels, and Burning Orange highlights in the lower grille, side mirror caps, A-pillars, and roof.
Interior
The C-HR HyPower concept is definitely sportier inside compared to the current generation. There's a dark versus orange theme going on in the cabin that features black seats with orange headrests and bolsters. The seats have an asymmetrical quilting pattern on the seatbacks, cushions, and door panels in bright Burning Orange yarn.
Drivetrain
All details are still under wraps for the new drivetrain under this concept's hood. What we know now is that the concept will be equipped with a hybrid powertrain that can produce 122 horsepower .