Turbo Fast Jaguar F-Type SVR Launched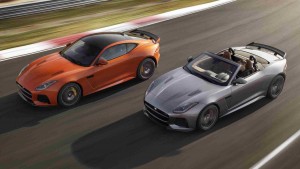 Boasting a speed of 567 bhp, 200 mph, the all-wheel drive Jaguar F-Type SVR can get your from 0-60 mph in 3.5 seconds. That, in a nutshell, is how to sell this new monster machine, the first Jag to carry the SVR badge—named after the Jaguar Land Rover Special Vehicle Operations group.
But if you want to really get into the final specifications of the SVR coupe and convertible, then here they are: it has a supercharged 5.0-liter V8 with a top speed of 200 mph, a more aerodynamically effective front bumper and splitter, a flat underfloor, carbon fiber active rear wing and rear venture, and an exhaust made of lightweight titanium and Inconel.
The Jaguar's supercharged 5.0-liter V8 proves this is more than a coupe and convertible version of the Project 7 limited-run F-Type, which required a delicate throttle foot or a massive tire budget.
The chassis also had an upgrade to make sure this one's going to compete well with other of its kind in the market. It has a new set of dampers and anti-roll bars, as well as stiffer suspension knuckles, wider tyres and lightweight wheels. You can also expect a standard Adaptive Dynamics, Torque Vectoring and stability control and "bespoke calibrations" for the 8-speed auto and all-wheel drive.
Outside, it looks meaner than ever, although the company hasn't gone full rock-on weird yet with the styling. Ian Callum's penmanship can be seen on the aesthetic designs of one of the most beautiful sports cars on the road today.
Jaguar said the pricing would begin around $126,000 (£110,000 for the Coupé and £115,485 for the Convertible), firmly putting this on the 911 Carrera GTS level. The company has released full specifications, features and photos for this machine.
Anyone wanting to get their hands on the Jaguar F-Type SVR will have to wait until this year's summer.
Source: Top Gear