Uber Urban, Uber Cool – the Upcoming SUV Land Rover Landy
The year 2013 was brilliant for Land Rover. Yes, in every aspect you can think about. The company was lauded globally, its creations appreciated and sold like hot cakes. It seemed, people just couldn't have enough of its creations! There was a wave of excitement among takers of Land Rover vehicles. While there were many who were fortunate enough to own some of the coveted creations by the company, there were others who could only afford to drool over them. Either way, the popularity of the brand skyrocketed in the past year and from what we can understand, it is about to shoot way, way up, thanks to Landy, the upcoming Land Rover SUV!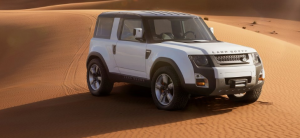 This is what we know so far! So, it was overall a hit show, across the world, mainly in Asian country of China. However, the company has decided to gear up and expand beyond the nextgen features that so many other contenders are offering. It is really very wise of the brand to foresee the expectations of the motor world and be prepared to strike at the right time, in the right manner. In the company's drive to explore next level technology, we are going to get the urban delight – the upcoming Land Rover Landy.  It is also said that the company is now going to dedicate more efforts on developing a hybrid Range Rover as well as an electric variant Land Rover Defender. These are the company's obvious efforts to take on the many offerings in the market. Who could contest that nobel thought! After all, the motor world is abuzz with a lot of new stories every day. With the crack of every dawn there is a new technology staring us in the eye, it makes sense if the company is smart enough to strategize well in time, and be ready with inspiring innovations. Landy seems to be just one of the many beauties lined up from the company. We are sure there are many more swanky machines to come our way, in the coming years. For now, we stay hooked on to what the company is calling its 'Urban SUV'!
If rumours are to be believed, and well, we will actually pay heed to them, for they turn out to be true, then the upcoming Land Rover Landy is going to be set against Evoque. It is going to get its style and aura from DC100 concept which seems promising, already. As for the quirky yet simple name, the company has decided to get it trademarked. News has it that they have applied for it, already! Once everything falls in place, the name is likely to be used for not just the vehicle but its accessories and dealership franchisee, too! Seems like Landy is truly going to paint the world in its colors, and literally so! This one is sure to give tough competition to Jeepster and Audi Q1. Quite understandably, we are having a tough time waiting for it to be launched.