UK Tuner Company Gives The 2020 Toyota Supra 420HP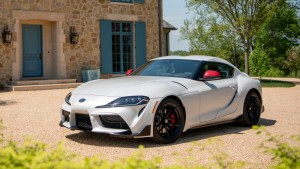 It's only been a couple of weeks but a UK tuning company already gave the 2020 Toyota Supra it's very first tune, extracting a total of 420 horsepower from the Japanese supercar.
There was no major tune-up. All Litchfield had to do was add power to the Supra's 3.0-liter turbocharged inline-six engine via an ECU remap. There were no hardware changes involved in the tune-up. At this point, everything is purely computer.
On its own, the Supra can make 335 horsepower. It's super fast and that has been confirmed via the first official lap time. If the car is truly making that straight from the factory, this means that the tune-up added an impressive 85 horsepower. For a computer tweak, that's pretty remarkable.
The good news is that Litchfield isn't done yet. According to reports, the UK tuner company will optimize a tune with bolt-on modifications. The tuner company plans to eliminate the particulate filter that the Supra came with from the factory (this is not installed in US-spec cars).
Instead, the tuner will allow buyers to choose between a Milltek or Akrapovic exhaust. These changes are bound to add another 20 to 30 horsepower to the car's output.
Thankfully, Litchfield doesn't charge as much as other tuner companies when it comes to their kits. Similar kits fitted for BMW cars cost only £600 (or $730). Based on that figure, the tune and the exhaust in the 2020 Toyota Supra will most likely cost $1,500. Considering that there's a possibility your Supra can have 450 horsepower, that's not much money to ask.
Since Litchfield is a UK company, buyers in the US won't be able to have their hands on the same tuning kit. The tuner company isn't even making the kit available to the European market. Surely, American tuner firms will also start to unlock the powers in the Supra's machine.