Upgraded 2019 Jaguar F-Pace SUV Starts At $45,595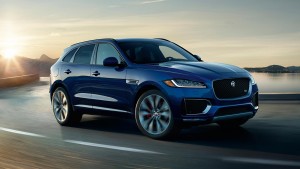 There are no big differences between the current Jaguar F-Pace SUV and the upgraded 2019 version even if Jaguar said the new one received several "enhancements" for the exterior. What changed though is the car's starting price, which is now at $45,595.
Not much has changed, that we can tell you. But then again, the F-Pace was already one of the best-looking crossover SUVs out in the market, so it does not need a major makeover, really.
That being said, there are a lot of upgrades inside: the 10-inch touchscreen, lane keep assist, automatic emergency braking, and front and rear parking sensors are now standard. And like all 2019 models sold in the United States, a backup camera will now be standard.
Jaguar also added optional slimline seats and three new packages. Owners can avail of the Park Pack bundles that bring automatic parking assist with upgraded parking sensors and rear cross-traffic alert. The Drive Pack, on the other hand, includes adaptive cruise control, blind spot monitoring, and upgraded automatic emergency braking.
The Driver Assist Pack have all the features of the two packages, but also includes a surround-view camera system and lane centering.
Under the hood, the gasoline engines will come with an emissions-reducing particulate filter. The most popular engine option would still be the 2.0-liter turbocharged four-cylinder, but you can also opt for the 3.0-liter supercharged V-6 engine that was used in the 380-horsepower F-Pace S.
Us customers would be happy to know that the 2.0-liter turbodiesel will still be included. This engine can produce 180 horses and 318 pound-feet of torque. Want more power? You can opt for the F-Pace SVR, which is powered by a 5.0-liter supercharged V-8 engine that makes 550 horsepower and 502 pound-feet of torque.
Including destination fee, the new F-Pace SUV will be priced at $45,595 for the base F-Pace 25t that uses the 247-horsepower turbo-four engine. The diesel 25d will be available for $49,495. The 296-horsepower 30t is priced at $50,995 while the 380-horsepower S costs $62,495. The range-topping SVR will sell for $80,985.