Very Rare Ford RS200 Evo 2 Wrecked in Goodwood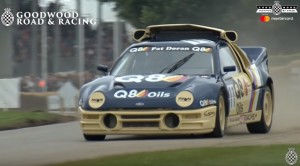 For being one of the 24 examples ever created during its production run, it is certainly sad to see a very rare Ford RS200 Evo 2 get wrecked. During a practice on June 29 for the weekend timed runs of the 2017 Goodwood Festival of Speed, one driver smashed the car into a stack of hay and totaled its rear.
According to The Drive, British rallycross veteran Pat Doran was driving the Ford RS200 Evo 2 during the event. The incident took place when he was making a quick sharp turn at the dreaded Molecomb corner of the track. His car went out of control and collided its rear into a pile of hay before hitting its nose on another heap, which eventually stopped the vehicle's momentum.
Luckily, Doran was safe but the exterior of the car's rear was ripped off. The front end also suffered significant amount of damage.
It didn't take long for the mechanics to repair the Ford RS200 Evo 2 though. Less than 24 hours later, the car was already fixed and in good running condition.
Not hindered by his mishap, Doran made a second run up the hill. In his next attempt, he finished the course in just 55.91 seconds.
Only 20 of the Ford RS200 Evo 2 were made during the model's initial production run. Later, four more were added. The newer models of the car ditched the 1.8-liter straight-four engine in favor of the 2.1-liter inline-four unit. The output of the updated model was at 600 hp.
Basing on several auctions not so long ago, the car sells around half a million dollars. Gooding and Company sold one at Pebble Beach for $539,000 in 2015. After that, another was sold by RM Sotheby's for $522,500 at Amelia Island in 2016.
Video of the Crash
Check out the nerve-racking crash of the very limited Ford RS200 Evo 2 in the video below: