Vision Mercedes-Maybach Ultimate Luxury SUV Gets Chinese-Inspired Interior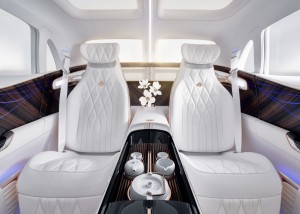 The Vision Mercedes-Maybach Ultimate Luxury SUV, a concept high-end luxury SUV, was unveiled at the 2018 Beijing International Automotive Exhibition. It got that sleek, cherry red finish aimed at the Chinese market because red in China means happiness, luck, and joy.
But we're here about the elegant, luxurious, and spacious interior of this concept SUV. The design is a mix of Western and Far Eastern influences, incorporating Chinese design elements like ebony, the known "Magic Wood" used in Chinese furniture. The highlight of the SUV's interior is the tea set hidden in the center console that extends to the rear. The heated tea set, that includes teapots and teacups, is integrated into a sculpted wooden tray made of ebony. It can be electrically retracted into the console at the push of a button. Talk about fancy, huh?
Aside from the hidden heated tea set, there are other exciting features in the SUV. This includes the seat with SUV-like position, sitting higher than in a sedan. They are wrapped in fine Nappa leather with a diamond quilt design. The front section is finished off by a Rose Gold trim, Pearly Grey detailing, and brushed aluminum elements.
The rear section gets even more comfortable. It is very spacious and has lots of legroom in front of the two seats. The seats have lateral support and leather-wrapped pillows, perfect for long and tedious drives.
The simple but elegant center console houses double 12.3-inch displays for the driver, a touchscreen and touchpad on the center console, and touch control buttons on the steering wheel. There is voice recognition capability that could adjust to the user's voice and adapt to new words being used.
If Mercedes pushes through with the production of this concept vehicle, it will be a class of its own. And maybe, Mercedes will finally have something to compete with Rolls Royce.