Volkswagen Arteon Gets More Powerful With 268BHP Engine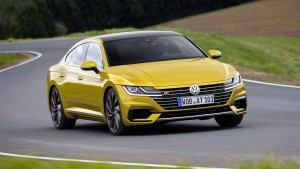 German automaker Volkswagen updated its flagship saloon, the Arteon, with a more powerful turbocharged 2.0-liter four-cylinder engine that makes 268 horsepower. Available now, prices start at £39,065 ($49,500).
The new engine of the Volkswagen Arteon not only produces a more powerful 268 horsepower, but it also brings the torque to 350Nm. The output is sent through a seven-speed DSG automatic transmission to an all-wheel-drive system that comes as standard. It brings to the car from 0 to 62 mph in 5.6 seconds, and provides a top speed of 155 mph.
The increase in power and the addition of an all-wheel-drive system will not make the Arteon any less efficient than it was originally made. According to Volkswagen, the new Arteon will still achieve a whopping 40.4mpg on the combined cycle while emitting just 160g/km of carbon dioxide.
The four-wheel-drive system has not affected the cabin space, too. This new and more powerful Arteon will have its predecessor's 563 liters of boot space with rear seats in place. When the rear seats are towed, it's a completely different story as the Arteon will get 1,557 liters of space.
There are still two trim levels—the Elegance and the R-Line. Both trims can get the new powertrain. For the Elegance trim level, the price will start at £39,065 ($49,500) and will standard with 18-inch alloy wheels, a 12.3-inch infotainment system, adaptive cruise control, and self-leveling headlights. The R-Line models are more expensive at £39,850 ($50,400) but that price gets you 19-inch alloy wheels, R-Line bumpers, R-Line badging, and R-Line sports seats.
Will The US Get The Arteon?
Americans waiting for the Arteon may have to wait a little while longer. Back in September, reports said it was the delay in the certification process that was hindering the sale of the Arteon in the US. The delay was not related to the Arteon but to the backlog in meeting WLTP world emission testing. VW said back then that the Arteon might be released in America during late fall/early winter.
Well, it's early winter right now and it's the holiday season. People are looking for an excuse to splurge on themselves. We haven't seen any sign that an Arteon will go on sale here soon. Stay tuned for more details.