Volkswagen Golf Gets a New Facelift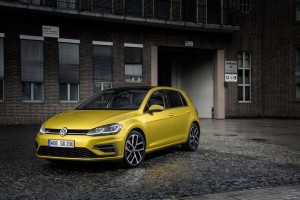 The Volkswagen Golf has been around since the middle of 1970s, so there's a certain standard expected from it. The current model was introduced at the 2012 Paris Auto Show, and some exciting changes were seen for the 2017 model year.
Volkswagen introduced a new front fascia, headlights, infotainment system, engine options and safety features in the Golf. These make the Volkswagen Golf the sportiest vehicle in its segment, according to a source.
Exterior
The most popular change on the Golf's exterior is the sportier front fascia and bigger air dam. The chrome grille now extends into the headlights through the sporty LED stripe that surrounds the bottom and outer edges of each headlight bulb.
Models with the adaptive cruise control or front assist will include a hidden radar sensor behind the VW emblem. Overall, the new model has a sportier appeal than the old one. Though not much changed at the rear, the new models come standard with LED taillights. Higher-end models have Individual LED for taillight and brake lights to differentiate them from the lower models.
Interior
There are no drastic changes in the interior of the new Golf, though there are new decorative trim panels for the dash, doors and center console. The seats also have new covers and trimmings.
The infotainment system is where Volkswagen focused its attention. Thanks to the next generation of MID infotainment systems, Discover and Composition Media systems of the Golf now enjoys 8-inch touchscreen while the Discover Pro system has 9.2-inch touchscreen. It boasts of the touch and voice command operation too.
These new systems bring the Golf to the modern age, and put it atop competitions based on features, design and functionality.
Drivetrain
Volkswagen will not disappoint with the changes it made under the Golf's hood. It has a new 1.5-liter TSI EVO gasoline engine that can produce 147 horsepower and 189 pound-feet of torque. In addition, it now offers the 1.5-liter TSI, a BlueMotion 1.5-liter Diesel with an output of 128 horsepower and 147 pound-feet of torque.
Lastly, there's the GTI, which would be at part with last year's GTI model. All these models come standard with six-speed dual clutch transmission.