Commute through Snow with the Volkswagen Snowareg!
Volkswagen has launched a new and amazing model for the SUV lovers of cold countries. This new model is called the 'Snowareg', and can be said to be the Touareg designed for extreme winter situations for countries like Sweden, Norway, Russia, etc. The Snowareg was essentially designed for Sweden in 2011, but Volkswagen is now ready to extend the sales to other countries as well.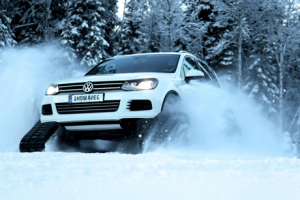 The new Volkswagen Snowareg is a modified version of the highly popular Touareg which, as Volkswagen claims, is capable of functioning in the harshest of colds and it can run efficiently on any terrain. Volkswagen expects serious competition from cars like the Lamborghini Aventador Roadster and the Mercedes SLS AMG. Both of these are supercars, making the Snowareg one of the very few SUVs designed for such climates.
Snowareg is set to come with a dazzling V8 engine of 4200cc. Other models of the SUV may or may not be introduced later. The engine is strong enough to produce power of 340 HP and torque of 590 lb. ft. The Snowareg is capable of reaching 100 kilometres per hour from rest in the only 5.8 seconds. But, these acceleration statistics are capable only if the Snowwareg is running on wheels. Yes, it uses another set of tires as well! The Snowareg features a technology called the Rubber Track Conversion System which is designed by the Minnesota based company Mattracks. This system makes the Snowareg capable of running on almost all the extreme and rugged terrains of the world. However, the top speed of the beast falls to a mere 64 kilometres per hour when using this system.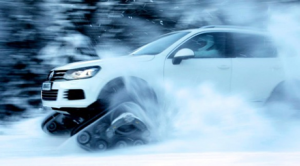 As far as the interiors of the vehicle go, one should note that this is a Volkswagen we are talking about. Snowareg, like all of its sister vehicles, features classy interiors and futuristic technologies. The Dual Zone Climate Control and the Dynaudio System are just some of the amazing features in this highly luxurious car. You will also get a beautiful panoramic moonroof!
If you are worried about the economy and emissions of such a vehicle, then there is nothing that should perturb you as the Snowareg features a good mileage as well as low carbon emissions. You will be enjoying a fuel economy of around 25.8 miles per gallon (9.1 litres for every 100 kilometres), which is pretty good if compared to many other vehicles of the same segment. Carbon dioxide emission is around 239 grams per kilometre.
With the introduction of the new Snowareg, Volkswagen has opened up a completely new segment with new customers in the ever growing SUV market but specifically focused on cold climate countries. The Snowareg, even though being the first one of its kind, is perfect for the harsh conditions that the extreme winters of countries like Sweden and Norway offer. Let's see what new innovations do the other car makers bring in the field!