Volvo Drops Details Of The 2017 V90 R-Design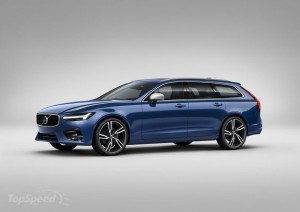 After four short months since Volvo debuted its V90 at the 2016 Geneva International Auto Show, the automaker is now ready to reveal more details about its 2017 V90 R-Design. Under this performance model, the V90 gains a sportier appearance with a new set of wheels, new front fascia, new radiator grille and new exterior trim elements, according to a source.
There is not much under the hood, but the exterior makes up for it. A few years back, you wouldn't find sporty and Volvo in the same sentence. That changed in recent years as Volvo is now ready to compete, thanks to its R-Design.
Let's start on the outside. In addition to the new fascia, grille and the new set of wheels, the overall appearance of the 2017 Volvo V90 R-Design is sleeker, sportier and more sophisticated than we have ever seen Volvo try.
You'll find the grille, air dam and air inlets all in glossy black finish. This adds a dramatic flair, increasing the appeal of the car's front. On the rear, there's a very little change from the regular V90, except for the glossy black insert between the slanted rectangular exhaust outlets.
There's also the large sunroof panel that will add more spacious feel once you relax on the sporty and contoured seats that are the highlight of the R-Design's interior. Of course, the upgraded steering wheel adds even more to the inside's overall appearance.
Made of all black with white contrast stitching, it has a three-spoke design and features the same layout for the side spokes. The lower spoke, on the other hand, sports the "R" badge.
Aside from the steering wheel, the seats are in black leather with white contrast stitching. Volvo removed the wood inserts and replaced them with carbon fiber inserts as well that worked perfectly with the black interior.
Under the hood, it has the same powertrain as the S90 and the XC90. We can expect the turbocharged 254-horsepower T5 or the 316-horsepower T6. But since this is a performance model, it could very well produce 400 horsepower. Imagine that.