Volvo Partners with Nvidia for Self-Driving Cars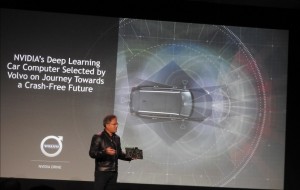 Volvo has joined the fray in the development of self-driving cars. The automaker teamed up with famous chipmaker Nvidia to give their autonomous vehicles a boost in computing power.
According to The Verge, Volvo is planning to put its self-driving cars in the road by 2021. The software for their autos will be supplied by Autoliv, a Swedish-American tech firm. Then Nvidia will offer the automaker its signature Drive PX hardware.
Drive PX is a custom hardware array specifically designed for self-driving cars. The Drive PX2 is capable of processing information from 12 video streams at once, including the data provided by LIDAR, radar and ultrasonic sensors.
Drive PX was once part of Nvidia and Volvo's "Drive Me" program. "Drive Me" is the company's experimental platform for autonomous cars.
The source claimed Volvo and Autoliv will be partnering up under a new company called Zenuity. The firm aims to produce self-driving car software, which will also be available for sale to other automakers. The software will provide Volvo with a revenue stream in case its self-driving cars don't perform well in the market.
The article noted that the developments show the trend in the automotive industry. The first trend displays the tendency of car makers to form alliances in their quest to produce their own self-driving vehicles. Second is the capability of Nvidia to secure its position in the computer industry by expanding outside its usual sphere of influence.
A lot of the major players in the automotive industry have introduced their self-driving car concepts already. Mercedes-Benz, BMW, Audi, Tesla and Toyota, among others, have all engaged in a race to develop the first road-worthy self-driving car. Even the tech giant Google is a contender too. Apple is rumored to be developing its own autonomous car as well.
The self-driving technology is here now. However, experts and executives of automakers have expressed their concern in the lack of infrastructure to support autonomous cars. Add to that the lack of laws that govern self-piloting vehicles in the road.