Volvo V40 Hinted On Snapchat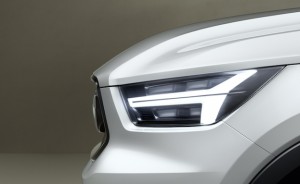 Volvo has been working on an overtime lately. Either it's launching new products or cranking up the research on new technology, the company has certainly been very busy. Its latest pronouncement proves it is laying the groundwork for future production cars.
Its most recent V90 wagon was highly impressive, as well as the 2017 S60 Polestar sedan and its long-roof sibling, the 2017 V60 Polestar wagon.
On its latest Snapchat tease, the upcoming Volvo V40 and XC40 were hinted, a pair of smaller models that will take the lead into bringing Volvo's return to the premium small car segment, which has been dominated by the likes of Audi A3 and Mercedes-Benz GLA.
There is not much we can get from the hints that came across as via the Internet through Snapchat. All Volvo deemed we deserve to know are the phrases "Teasing the future of Volvo" and "Not your daddy's Volvo" followed by a couple of emoticons (a smiley, a kiss and a father-like shedding a tear).
We're lucky enough to find a single promo shot of the new Volvo without the caption and the smiley. The vehicle will officially be called the "Volvo Concept 40." Based on the teaser, it will have the same handsome design language of the new S90.
Reportedly, the concept will be unveiled at the company's headquarters in Gothenburg, Sweden. Surely, we will have more information after the unveiling, and we'll see if it looks good in person as it does on these photos.
The new Volvo will use the brand's Compact Modular Architecture (CMA), which is also expected to be used by other Geely products. The concept might be the brand's future come 2018, so look for it then. As we can well remember, the last 40-series Volvos left the US market in 2011 after several years of declining sales.
Its return might just be as memorable.