Volvo V90 Station Wagon Announced for Geneva Motor Show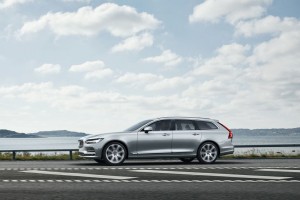 The Volvo V90 Station Wagon might be a little on the domestic side compared to its siblings, the Volvo XC90 SUV and the Volvo S90 sedan, but it doesn't mean it won't be a thing of beauty once it hits the Geneva Motor Show 2016.
Although Volvo's recent success came from the stunning XC90 SUV, we cannot deny the fact that the Swedish carmaker's legacy had always been the station wagon. With the release of the V90, it looks like Volvo is once again inching to be at the top in that segment.
The problem, of course, lies in the fact that this segment has been dominated by crossovers and SUVs in the past years. But for certain folks, the station wagon is still the best way to transport their kids to and from school. This especially holds true to those living in Vermont, Colorado and Washington State. A family car such as the station wagon is still the best way to go for these old folks.
The V90 is the station wagon version of the S90 sedan, which is the sedan version of the SUV. The sedan and SUV were both welcomed to warm receptions last year, so the expectations for the station wagon are up to the roof. No pressure, though, as it looks like the V90 will exceed all of these.
The V90 will come with a powertrain that can deliver more than 400 horsepower if you would prefer the T8 plug-in hybrid package. This is more than enough power for a station wagon, mind you.
The interiors and exteriors are both impressive, and even the rear is surprisingly better than the sedan version, which has been heavily criticized in the past.
As of now, there are still no pricing and availability details aside from the fact that it might come to the market late this year.
Source: Verge