Vroom goes the Heart for the VW Crossblue 2016
The heart has its own reasons and beliefs. Won't you agree? That is the reason why, it is difficult to change the way you feel about certain vehicles. So, while you may not even react to certain launches, there are others who make you gaga just with the news. And it is not a new emotion at all. All of us have experienced the ecstasy of anticipating what a certain machine is going to throw our way. This varies from vehicle to vehicle. That is why when we heard certain good things about the upcoming VW Crossblue 2016; we just couldn't stop ourselves from updating you about some of its many charms. So, are you ready to know more?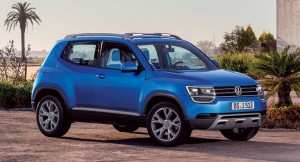 Let us start with some clarity about what category does the upcoming VW Crossblue 2016 fall into? Well, it is no ordinary SUV if that is what you had in mind. It is a league apart from other mid-size SUVs that many think are its contenders but in reality they are nowhere close to it. Why do we say so, you ask?
We have a lot of reasons for making such tall claims about this new machine which is the result of a lot of intelligent investment of money and hard work, few millions give and take, but the rough estimation is around $900 million. And that is just the amount that has been investment in research and development. Looks like the company has learnt its lesson from the sales slump that occurred the last year and hit the company really hard! It was like an unexpected turn on a smooth road and probably, they never saw it coming. However, when the storm arrived, it was already too late to really correct the figures of the last year but yes, it wasn't too late to start planning ahead. As a result of which we got the upcoming VW Crossblue 2016.
If everything goes as planned and anticipated by the company, then there are expectations of the new SUV to lead the US market as soon as 2018.  To some it appears to be an unrealistic expectation, considering how fickle the motor market can be. There is no sure shot formula of finding out what will really change the game for a new entrant. As a person who religiously follows the latest motor trends, we are sure; you agree that all strategy and investment aside, the upcoming VW Crossblue 2016 might still not make a cut. But those who have been following the updates about this one since last year when it was revealed at NAIAS, have strong reasons for thie trust in this one!
Experts are of the view that it will fall somewhere between Tiguan and Tuareg models. There are also many speculations regarding its dimensions. We have heard that the machine that will be launched will be almost like the concept that we all have seen – somewhere around 196.3 inches in length, 79.3 inches in width and 68.2 inches in height. Dimensions put together with fabulous performance has gotten many hearts racing. And we are not even surprised!