Watch the Remote Control Feature of the Vision Mercedes-Maybach 6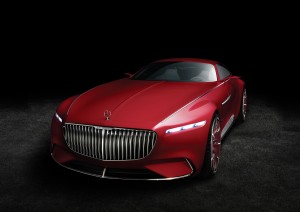 The Vision Mercedes-Maybach Vision 6 is characterized by "hot and cool" design coupled with a powerful engine and a bunch of technical innovations under the three-pointed star marque. Recently, it was discovered through a YouTube video that the concept car can also be driven using a remote control.
Marchettino, an Italian-based car lover, shared a four-minute clip showing the remote control feature of the Vision Mercedes-Maybach 6 in his channel. In the video, a guy can be seen holding a device similar to a video game console controller. Then he uses the controller to move the electric vehicle back and forth on the lawn. After that, he loads the car into the trailer with precision.
There are a lot of practical applications offered by the remote control element of the Vision Mercedes-Maybach 6. One of them is it allows the driver of the car to move the car in and out of the parking area conveniently no matter how narrow is the space around it. That is similar to the key feature of the Pilot Parking Assistance provided by the new Mercedes-Benz E-Class.
Vision Mercedes-Maybach 6 Video
Watch the video below of the Vision Mercedes-Maybach 6 where its remote control feature is demonstrated:

Other Tech Found in the Vision Mercedes-Maybach 6
Another noteworthy tech in the concept car can be found in its front windshield. According to the Global Media site of Daimler, the glass also functions as a transparent display driving and navigational data are shown there.
The embedded display in the windscreen of the concept EV augments the outside world with additional information for safer and more convenient driving experience. The function can be controlled by the occupants of the car by simple hand gestures.
Digital information can be seen in the glass trim part of the Vision Mercedes-Maybach 6's cabin. Among the data that can be accessed are the body sensor displays as well as seat control, climate control and emotional lighting effects.