What To Expect From Steeda's Ford Mustang Bullitt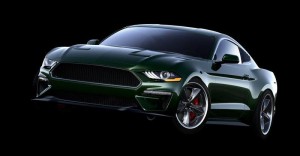 The tuner Steeda is known for its affection for the Ford Mustang, and it has become famous when it comes to creating limited and special edition of the car for many clients. For the Mustang Bullitt, the company partnered with Galpin Auto Sports and McQueen Racing to deliver the most amazing version of the auto to date.
Exterior
The stock Ford Mustang Bullitt is cool enough in terms of looks, but the Steeda package adds another level of prestige factor. The Steeda-built Bullitt gets an all-new aerodynamic package that includes a deeper front splitter, side skirts, and rear diffuser. To make it look more exciting, Steeda adds another inch to the tuner's signature wheels and finished all the additional pieces in Highland Green.
Interior
Moving past the exterior features, the Steeda's Bullitt is fitted with a multitude of McQueen plaques, Alcantara steering wheel, and leather-covered surfaces all over. Steeda did not give any details about the other changes they did to the Mustang Bullitt, but we're excited to see more.
Performance
Steeda integrates the Bullitt with a 2.9-liter Whipple supercharger, which leads to the modifications on the rear suspension and axles plus a carbon driveshaft. It also offers optional extras that include four-point roll cage and rear seat delete, Ford performance severe duty IRS half-shaft upgrade, and McQueen racing brake calipers painted in dark charcoal with McQueen accents in green.
You can opt for the stock Bullitt, but if you want the ultimate experience, you can shell out some serious cash on the Steeda-tuned Bullitt. The options for the power output are quite extensive—a 500-horsepower beast or an 800-horsepower Hellcat killer.
The Ford Mustang Bullitt sells for $46,595. The Steeda package costs an additional $20,995. The price is steep but the Steeda package can power the Bullitt by 800 horsepower, so you can compete against the meanest muscle cars on the road.