What To Get Excited About In The Redesigned 2018 GMC Terrain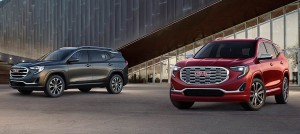 After circling each other for some time, the GMC Terrain and Chevrolet Equinox are finally going head-to-head because they are both being redesigned for 2018. GMC said its Terrain is now smaller and lighter than its predecessor, making it an ideal fit in the compact crossover and SUVs segment.
Since there are no test drives yet of the Terrain, it will be hard to determine how this less size and weight affected the handling and aerodynamics. If GMC is right, this may finally be the year that they beat the Equinox in its own game.
Smaller And Lighter
The lightest version of the 2018 Terrain is said to have this little fact: it is 465 pounds lighter than the lightest version of the current Terrain. To do this, GMC had to remove the physical heft, so the smoother roof on the redesigned model has the "lightness" and "grace" than the chunkier current generation.
The dimensions of this redesigned Terrain are these: 3.2 inches shorter in length, 0.4 inch narrower, and 0.9 inch lower than the Terrain that it's going to replace. Curiously, the wheelbase is smaller by 5.2 inches, but the interior is more spacious than before. The rear legroom has 0.2 inch more and the front-seat legroom has 0.3 inch more.
Speed Is The Name
The base Terrain will come packing a turbocharged 1.5-liter four that produces 170 horsepower and 203 lb-ft of torque. The step-up engines are the turbocharged 2.0-liter four that cranks out 252 horsepower and 260 lb-ft of torque, and the 1.6-liter four-cylinder diesel that comes up with 137 horsepower and 240 lb-ft of torque.
A Denali Trim Is Available
The 2018 Terrain comes in four trims—SL, SLE, SLT, and the range-topping Delani trims. All variants come with the standard LED daytime running lamps, LED taillights, HID headlights, active interior noise cancellation, aluminum cabin pieces, and soft-touch materials on the dashboard and door panels.
The Denali trim will add these: chrome accents, Bose audio system, a satin-chrome grille, a power liftgate, 19-inch aluminum wheels, navigation, LED headlights, heated steering wheel, and piping on the front seats.