What To Know About The 2020 Audi S8 Based On Spy Shots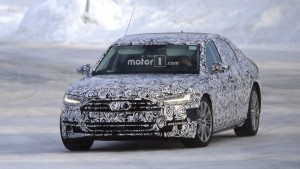 Audi showrooms will soon feature a new generation of Audi A8 and with it comes a new S8 as well. There's no exact date on when the S8 will debut, although we're looking at the possibility of it being introduced to the market later this year or early next. There is a higher likelihood that we will be seeing it in showrooms next year though as a 2020 model.
Based on the spy shots from Motor1, S8 prototypes are still being dressed like the A8 but the quad-tip exhaust and uprated brakes give it away. So, what we're seeing in the photos is the sportier S version. The final design will most possibly have a new styling in front and in the rear. There might also be a revised grille, if reports are to be believed.
For what's under the hood, we're pretty sure we'll see the same unit in the current model. It's going to be a 4.0-liter twin-turbocharged V-8 mounted up front and paired with four-wheel drive through an 8-speed automatic transmission. It should be able to produce north of 520 horsepower, which is the current output of the outgoing S8 model.
There are plans for a new S8 Plus model, though it may not even go by that name. Some reports are throwing the name S8 e-tron instead. The "S8 Plus" (we'll call it by that name for now) will have the plug-in hybrid powertrain seen in the Porsche Panamera Turbo S E-Hybrid (the reason behind the e-tron name). That powertrain will supposedly deliver more than the 605 horsepower being produced by the outgoing S8 Plus.
The fourth-generation A8 will remain to be Audi's flagship sedan. The whole fleet is designed using Volkswagen Group's latest MLB platform, which will allow for weight savings and advanced electronic driver assistance technologies, including self-driving capabilities. Expect the A8, the S8, and the S8 Plus to be introduced soon.