What We Know About The 2019 BMW 8 Series Convertible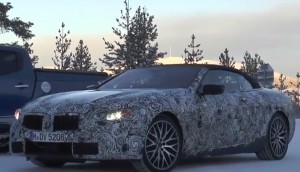 BMW has revived its 8-Series coupe as seen at the 24 Hours of Le Mans in June. Its dedicated racing version even competed in the prestigious race for GTE class for production-based cars. The flagship car will be seen in BMW showroom starting December and those with $112,895 to spare can have it in the M850i trim.
That's not all. BMW is also treating us to a convertible version of the 8-Series. The original 8-Series, of course, never treated us to a convertible model so this is a welcome treat for BMW fans. We did get a prototype, but it never went into full production mode. That's about to change now as a convertible version of the 8-Series was spotted.
The soft-top BMW 8-Series convertible has been spotted going around and it actually revealed way more details than we have anticipated. It makes sense for the German automaker to use a soft-top instead of a hardtop to keep the weight of the car down and preserve the original silhouette of the coupe version.
Similar to the coupe version, the soft-top convertible uses BMW's CLAR modular platform. There are no clear details yet on the engine options for the 8-Series convertible but we expect to see the M850i coupe's new twin-turbocharged 4.4-liter V-8 making 523 horsepower and 553 pound-feet of torque. There should be one engine lower than the turbocharged 4.4-liter unit and we know for a fact that BMW plans on making a high-performance M8 convertible in the future.
The 8-Series range will be produced at BMW's main plant in Dingolfing, Germany. The coupe should arrive in showrooms in December while the convertible will likely arrive next spring. Once in the market, the 8-Series will be competing with the Maserati GranTurismo Convertible and Mercedes-Benz S-Class Cabriolet.
After the 8-Series Convertible, BMW plans on making an 8-Series Gran Coupe while the sedan variant is due out next year.
Check out the new spy video of the upcoming BMW 8-Series Convertible here: