What We Know So Far About The Chevy Camaro With 7-Speed Manual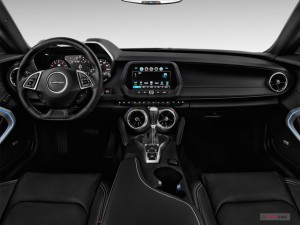 There are hushed tones in the auto industry that Chevrolet plans to fit its Camaro with a seven-speed manual transmission for the 2019 model year. To those who don't know, the Chevy Camaro already has a current six-speed manual option, along with its eight-speed and 10-speed automatic transmissions.
The current Chevrolet Camaro already shares quite a few features with the C7 Corvette, particularly when it comes to their V8 engine choices. AutoGuide, however, has thrown another little tidbit of information about the two vehicles. According to a document retrieved from the California Air Resources Board (CARB), the Camaro will gain a seven-speed manual gearbox, the same unit found in the Corvette.
The seven-speed manual on the Camaro will most likely be paired with the 6.2-liter LT1 V8 in the Camaro SS variant. This is the same engine that we found in the base Corvette Stingray. We wouldn't be surprised, too, if there's an extra gear on the supercharged Camaro ZL1 since it uses the same LT4 V8 found in the Corvette Z06, which comes with a seven-speed unit, too.
The document is very vague when it comes to the details of this move from Chevrolet. It only listed engine displacement and transmissions planned for the Camaro. Of course, there have been speculations in the past about the possible fitting of a seven-speed transmission in the next-generation Camaro, but there was never any concrete evidence that the plan existed.
Now, Chevy has remained mum on this issue and did not confirm any of the details the document from the CARB revealed. The plan may not come into fruition until 2019, though, so that's a lot of time for us to wait. But the possibility of seeing a Camaro powered by a 7-speed manual transmission is enough to make that wait bearable, at the very least.