What Would A Nissan Sentra Nismo Be Like?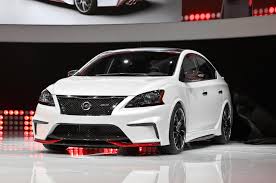 It's way too hard not to imagine what a Nissan car bearing the Nismo nameplate be like after the company revealed its concept at the 2013 Los Angeles Auto Show.
There was a time that Nissan was the dream of many, thanks to its SE-R, which was sadly discontinued after the 2012 model. That one was packed to capacity—a four-cylinder engine, responsive suspension, and a competitive price tag.
You wouldn't find the likes these days, except that Nissan will probably surprise us with a performance Sentra with all the goodies of before. But until the company actually announces something, car enthusiasts are free to imagine what the Nismo nameplate would come with.
According to a source, the Nissan Sentra Nismo would have Nissan's "Energetic Flow" design language as seen on the Altima, Maxima and Murano. The front fascia would gain the "V-Motion" grille, as well as boomerang-shaped headlights and taillights. A strip of chrome would run from the trunk to the window surround, linking the nose and tail with shiny metal.
Across the Nismo lineup, you would find the premium Bright Pearl White color with accents done in red, black and carbon fiber, most especially in lower fascia, sideview mirrors, door handles and side sills.
There would also be a shiny black chrome mesh for the upper and lower grilles while the 19-inch aluminum alloys Ray wheels will use a dark grey matte finish and polished lip.
For the drivetrain, the Sentra is usually equipped with 1.8-liter, DOHC, inline four-cylinder engine. The total output stands at only 130 horsepower and 128 pound-feet of torque through a front-wheel drive continuously variable transmission (CVT). It can go 0-to-60 mph on automatic transmission or manual transmission for the base model Sentra S.
There's a turbocharger to add more power and speed. This can lead to 265 horsepower and 260 pound-feet of torque.
As for the price, the Nismo would most likely start at $28,000.