Why is Ford EcoSport the Ideal Subcompact SUV?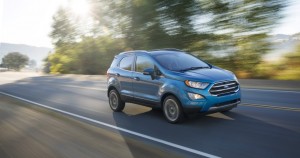 Ford just announced that it's finally bringing the Ford Ecosport, a subcompact SUV that is loosely based on the Fiesta and shown for the first time in 2012.
Based on a report, the EcoSport is Ford's smallest SUV, and it is mainly aimed at developing markets. The American company has hinted numerous times that we might see it on US shores, and here it is, finally.
It Trumps Its Competition
The main competitions of the Ford Ecosport are the Chevrolet Trax, the Honda HR-V and the Nissan Juke. But why does it land on top of these? Mainly, it's because of the price. While Ford has yet to release the pricing for the Ford Ecosport, its popularity in the Asian market proves that it is a force to be reckoned with, pricing-wise.
In terms of powertrain, the standard trim has a turbocharged 1.0-liter inline-3 and front-wheel drive. There's a 2.0-liter model with a standard all-wheel drive, too. Both of these variants will arrive with a 6-speed automatic.
Its Connectivity Features are Insane
Considering that this is a subcompact SUV, the connectivity and infotainment systems are actually quite good, or better, in fact, than other SUVs. Ford is targeting urban-based millennials, so this slew of connectivity features is not surprising at all.
The Ecosport will have Ford's Sync 3 infotainment system—Apple CarPlay and Android Auto smartphone integration. You can toggle with the features through the 8-inch touchscreen display.
Aside from that, the Ecosport has two fast-charging USB ports, a 12-volt power outlet (for the driver and rear passengers), and a 110-volt behind the center console.
Its Storage Space is Decent
Who doesn't want huge storage space in their vehicles? Ecosport will have 30 stowage pockets, bins and hooks that will make use of every nook and cranny of the crossover. There's also a movable floor board, and you can fold the second-row seats to provide a larger area to transport larger items.
The Ford Ecosport will officially make its debut at the 2016 Los Angeles Auto Show. Market launch won't be until early 2018, though.