Wife of Carlos Ghosn Asks President Trump To Intervene For Her Husband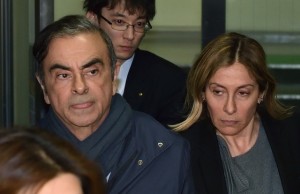 Carole Ghosn, the wife of disgruntled ex-Nissan boss Carlos Ghosn who is currently on trial in Japan, asked the US government, particularly President Donald Trump, to talk to Japanese Prime Minister Shinzo Abe about the state of her husband.
The two will meet during this year's G20 summit in Osaka from June 28 to 29.
She asked Mr. Trump to speak with Abe about fair trial conditions for her husband. Mr. Ghosn, who is awaiting trial, is facing charges of under-reporting his salary and using Nissan's funds for personal expenses. The 65-year-old former executive, who was also at the helm of the Renault-Nissan-Mitsubishi Alliance, denied these accusations.
Mrs. Ghosn asked the US president for three things: fair trial conditions, to let her speak to her husband, and the presumption of innocence until proven guilty.
The last time she saw her husband was on April 4 when prosecutors re-arrested him in their apartment in the early hours of the day. Fresh allegations were made in April and the court allowed officers to arrest Mr. Ghosn who was first taken into custody in November 2018.
He was freed on a $4.5 million bail but is living under very strict conditions. He is not allowed to see his wife and he must stay in Japan in a court-appointed residence with cameras to monitor his every movement.
Mrs. Ghosn said "all of these" could have been handled internally by the company. "They didn't need to go this far," she told BBC in an interview. Mr. Ghosn, a French citizen, resigned as the chairman and CEO of Nissan shortly after the scandal broke out.
Mrs. Ghosn, who was earlier questioned but never charged of any wrongdoings, said the courts want to implicate her "to weaken Carlos and to shut me up." She said she isn't a "conniving woman" and that she was "a housewife who raised three children."