Will The Kia GT Concept Be Called The Stinger?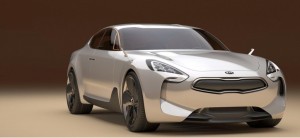 Reports have it that Korean auto maker Kia is working on a sleek sports sedan with a rear-wheel drive. This was apparently first featured in 2011 in the form of the Kia GT concept. Oh, how time flies.
It now carries the codename CK, and has recently been spotted on the back of a truck. Sources said it is set to make its debut later this year at the 2016 Paris Auto Show in September.
Until recent reports that reveal it might carry the Stinger name, this particular Kia was called a GT. Is the revelation that it will be named Stinger a confirmation that the GT would be a sports car performance-wise? After all, Kia used the name Stinger for its sports car concept in 2014.
That particular sports car was ruled out for production because of a low demand, but elements of it—the design and apparently, the name—will be featured on this sedan.
This GT or Stinger is based on the platform used on the Genesis G80 and the G90 sedans. One of the available powertrains for that platform is the twin-turbocharged 3.3-liter V6 fitted in the Genesis sedans. That can produce 365 horsepower. Customers can choose between 4- or 6-cylinder engines.
Whatever it will be called, this new Kia is slated to be a part of the 2018 lineup for the Korean brand. It will fit somewhere in the middle of the Cadenza and the K900, and would compete with style-led sedans such as the Audi A7 and the Mercedes-Benz CLS. The Kia, of course, will be way cheaper.
Cheap cars are the centerfold of Kia's business model. Though this was a successful strategy at first, Kia and sister company Hyundai are experiencing declining profits amid increasing sales. The new strategy seems to be targeting more profitable segments, such as the one where this new Kia will fit.