Would You Buy This Biodegradable Car?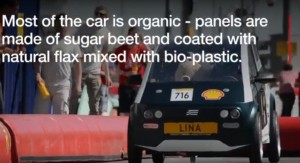 The world's first biodegradable car was just unveiled. The auto was taken in public roads where it passed its driving test.
According to the video of the car released via video-sharing site YouTube, the vehicle is called "Lina". The body of the auto is made from biodegradable materials. Although not mentioned in the clip, only the driving mechanisms and the wheels are made of metal. Of course, the other exceptions include the glass parts.
The panels of the car are created using sugar beet. The material is coated with natural flax combined with bio-plastic to make the armor of the auto rigid and probably to prevent quick deterioration caused by harsh environmental elements.
Click's Dan Simmons was the first person outside the car's team of developers to join the test drive. It was revealed that the auto could not run past the 55 km/h threshold.
The video claims that the biodegradable car is powered by an electric motor. Then it takes 20% of the energy utilized to produce carbon fiber-based cars.
The presentation reminds us though that the car is only fitted with just the basic elements of driving. The auto does not have the mechanism to wind down its windows, radio or air conditioning. One part of the video also shows a guy pushing the car backwards because of its "limited reverse gear"—as the video stated.
The fact that the biodegradable car is driveable makes it a success. After all, a vehicle's purpose it to bring a person from point A to point B safely.
The auto gives us a preview of what biocomposite cars would look like—if ever automakers would venture in that territory. However, the video notes that the priority of car makers today is in circular economy wherein they take apart the materials of present vehicles and the future ones to make new ones based on the interview of Professor Maarten Steinbuch of Eindhoven University of Technology.
Video
Check out the testing of the world's first biodegradable car in the video below: