Yellow Cars Parade in Cotswold Village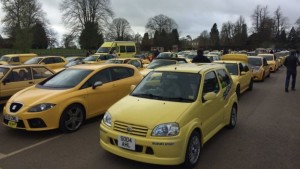 Yellow car owners recently paraded in Cotswold Village. The act is in support of the backlash that resident Peter Maddox received when he parked his yellow-painted Vauxhall Corsa outside his cottage in Arlington Row.
According to BBC, the 84-year old gentleman in Cotswold Village was criticized by tourists for parking his yellow car in the historic place. They said that his auto ruins the view.
Tourists who went to social media to air their frustration posted that the car is just "ugly". The earliest complaint came from Lee McCallum who said, "Picture postcard street photobombed by ugly little yellow car."
People went as far as to vandalize the car. The report stated that the yellow Vauxhall Corsa was scratched, etched with the word "move" in its hood, had its panels damaged and its windows smashed.
Due to the expensive repairs amounting around £6,000, Maddox told in an interview that he would just buy a replacement. He planned on buying a lime green-painted unit.
In response to the harsh comments and acts against the yellow car of Maddox, 100 yellow car owners recently drove their vehicles along the roads of Cotswold Village. Matty Bee organized the event who pointed out that it was "a celebration of anything yellow".
For safety reasons, only 100 cars were allowed to join the event. The yellow vehicles ranged from three-wheelers to an expensive Lamborghini super car.
Maddox was delighted over the show of support to his yellow car.
The source said yellow is the most popular color for cars in the UK in 2016 based on the records of the Society of Motor Manufacturers and Traders. The country saw 12,431 registrations of yellow cars in that year.
An AA survey in 2011 also found out 15 percent of the respondents found that yellow cars have the safest color. Yellow topped that survey compared to other car colors.