Daily Archives:
August 5, 2017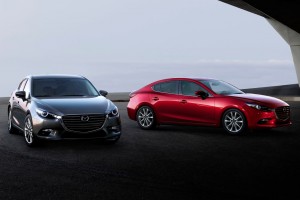 The new Mazda 3 may not be as popular as Honda Civic right now, especially when it comes to the Si and Type R variants, but it has an appeal that cannot be denied, too. As the Civic's direct competitor, the Mazda 3 added new standard equipment to its lineup and made the powerful 2.5-liter engine more readily available.
1. Sport Variant 
The Sport variant of the compact sedan is powered by a 2.0-liter four-cylinder engine that can produce 155 horsepower at 6000 rpm and 150 lb-ft of torque at 4000 rpm. It comes with a six-speed manual transmission and a $18,970 price tag. The six-speed auto transmission will add $1,050 and the hatchback style has a $1,250 premium.
The standard equipment would be an automated emergency braking (available across all variants), 7.0-inch infotainment screen, Bluetooth phone and audio, push-button start, and cloth seats. With the $1,000 Preferred Equipment package, owners can also get blind-spot monitoring and rear cross-traffic alert plus 16-inch alloy wheels (standard for the hatchback), satin chrome interior trim, and heated side mirrors with turn-signal lamps.
2. Touring Variant
The Touring has a new 2.5-liter engine that has an output of 184 horsepower at 5700 rpm and 185 lb-ft of torque at 3250 rpm. The price tag starts at $20,965 with the hatchback version adding $750 on top of that.
Standard equipment includes leatherette seats with heated front, blind-spot monitoring, rear cross-traffic alert, rain-sensing windshield wipers, automatic headlights, dual-zone automatic climate control, a new dark silver alloy wheel color, and a leather-wrapped steering wheel and shift knob.
For an additional $1,500, owners can get a nine-speaker Bose audio system, SiriusXM satellite radio, and a sunroof.
3. Grand Touring Variant
Mazda 3's loaded version has a starting price of $24,020 with a six-speed manual transmission but for $24,770, you can have it in the hatchback version with manual gearbox. An automatic transmission adds another $1,050.
The Grand Touring will have all the standard and optional equipment on the lower trims, plus black or off-white leather seats, a color head-up display, and all-LED exterior lighting. If you want more, there's the $1,600 Premium Equipment package that will add navigation, adaptive cruise control, lane-departure warning and lane-keeping assist, and traffic-sign recognition, plus adaptive front headlights, a heated steering wheel, and paddle shifters (with the automatic transmission).
Expect the Mazda 3 to arrive this month.
The third-generation Honda Insight is arriving, if spy photos of a test mule for the hatchback is to be believed. It looks like the Japanese automaker is finally ready to unveil its latest offering for the sedan segment.
Body of a Honda City
Honda has always managed to stay clear of criticisms when it comes to body styles and lines. The Insight is no different as it prepares to use the similar body of the Honda City, though adjustments are needed to fit the mechanicals of the Insight. Adjustments mean stretching and widening the body to make way for the wheel arches and extensions added to the hood and rear doors.
Plug-In Hybrid is Possible
Honda has yet to give details as to what will compose the 2018 Insight. What we know so far is based on the Clarity range of fuel cell, plug-in hybrid and electric cars in the midsize sedan segment that was launched just recently. The Clarity range is a hint that Insight will keep its odd shape—a hatchback—but will also dabble in offering electrified cars, or at least the possibility of a plug-in hybrid variant.
If Honda does take this route, it only means one thing—it's ready to compete with the Toyota Prius in the electrified car segment. The Prius is offering both a hybrid and plug-in hybrid variants. The current-generation Insight, on the other hand, only delivers a hybrid version.
Based on the 2030 Vision strategy released in June by the Japanese carmaker, two-thirds of its vehicle lineup should have some form of electrification by 2030. Primarily, the focus is on the plug-in hybrid technology, although there are also plans to produce electric and fuel cell cars. Honda is set to release a new electric car this fall.
The 2018 Honda Insight will debut later this year or early next year.
Photos
Check out Autoevolution's spy shots of the upcoming Honda Insight in the gallery below: