Carlos Ghosn Is Going To Spend Christmas In A Japanese Cell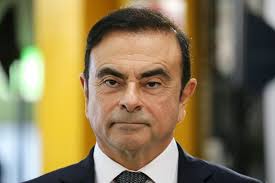 Former Nissan chief Carlos Ghosn will have to spend his Christmas and New Year's Eve in a Tokyo jail without the possibility of receiving visitors as fresh allegations surfaced that he made the carmaker shoulder $16.6 million in personal investment losses.
On Sunday, a Tokyo court ruled that Ghosn can be held for another 10 days without bail after his rearrest on Friday on charges of breach of trust. The former Nissan chief has been detained for the past five weeks on charges that he underreported his income. The breach of trust allegations is an additional charge.
Japanese prosecutors petitioned the court to extend the detention to 10 days without bail. They were granted that petition. During the 10-day period that ends on January 1, Ghosn cannot welcome regular visitors, except for his lawyers and consular officers from countries where he holds citizenship.
Ghosn is a Brazil-born businessman who also has French and Lebanese citizenships. He served as the CEO of Michelin North America, chairman and CEO of Renault, chairman of AvtoVAZ, chairman and former CEO of Nissan, and chairman of Mitsubishi Motors.
Ghosn's arrest in Tokyo last month shocked the auto industry. It also strained the partnerships he built between Nissan (NSANY), Renault (RNSDF), and Mitsubishi Motors (MMTOF). After his arrest on November 19, Nissan fired him as its chairman but Renault appointed interim management, keeping Ghosn on the payroll.
Prosecutors alleged that around October 2008, during the global financial crisis, Ghosn shifted personal trades to Nissan, making it responsible for about 1.85 billion yen ($16.6 million) in appraisal losses. This move inflicted damage on Nissan by having it pay up a total of $14.7 million between June 2009 and March 2012.
His first confinement to the detention center was due to the initial allegations of financial misconduct wherein he reportedly underreported his income between 2010 and 2015. If proven guilty, Ghosn is facing a possible maximum prison sentence of 10 years. Prosecutors are also alleging him to have continued this practice in 2017 but they haven't charged him yet.